Volunteers Needed
SO YOU WANT TO
BE A FIREFIGHTER / EMERGENCY RESPONDER…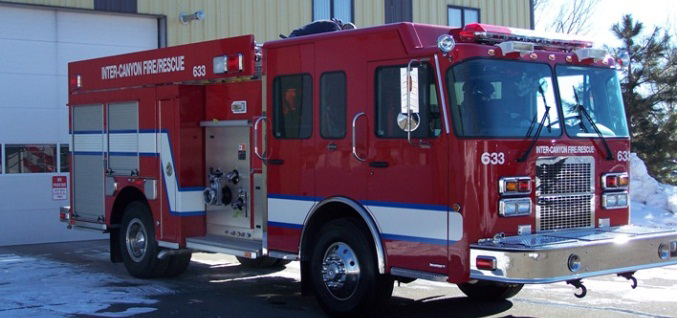 7939 S. Turkey Creek Road
Morrison CO 80465
303-697-4413
Joining is easy! Take a look at our brochure or read the information below:
WELCOME TO INTER-CANYON FIRE PROTECTION DISTRICT
The Inter-Canyon Fire Protection District (ICFPD) was started in 1946. Today we are a tight-knit family of over 40 active volunteer members (men and women) responding to an average of 350 fire, medical, and rescue calls per year. The district serves fifty square miles of residential neighborhoods and open space areas in the Jefferson County foothills including North and South Turkey Creek Canyon Roads, S. Deer Creek and Deer Creek Canyon Roads, and a five-mile stretch of US Highway 285. The department has five stations spread out across the district housing 16 emergency vehicles (fire engines, water tenders, rescue trucks, ambulances, and brush trucks).
FIREFIGHTING IS DANGEROUS
Firefighting is an inherently dangerous activity; because of this fact, ICFPD prioritizes the safety of its members. Safety is infused into our culture through scheduled in-house classroom and hands-on training activities, expert guest instructors, employee policies, standard operating procedures, and by always watching out for each other.
We send our new members to rigorous classes to learn how to properly handle emergencies. Existing members must continue to learn, train, and improve throughout the year and must maintain current certifications on various aspects of firefighting. We ensure that members are familiar with our trucks and equipment prior to use, all members help to maintain our equipment and trucks so that they are in good working condition, and we work as a team together. As you become more experienced with our safety procedures and equipment you will be more involved during fire and rescue calls.
ICFPD OPPORTUNITIES
Every member of ICFPD is trained to a minimum standard level as a State of Colorado certified Firefighter I, Hazmat Operations Responder, Basic Wildland Firefighter, and Medical First Responder. Additionally, opportunities for further training exist for those interested in focusing and excelling in a certain areas, such as:
Advanced Medical – EMT Basic through Paramedic
Advanced Engine Operations
Rescue and Extrication Techniques
Advanced Wildland Courses
Officer Leadership Skills
MEMBERSHIP REQUIREMENTS
In order to join ICFPD as a Firefighter / Emergency Responder, you must be able to meet the following requirements:
Be a legal resident of the United States.
Be at least 21 years of age.
Possess a valid Colorado Driver's License.
Possess a high school diploma or GED.
Successfully pass a criminal background check.
Provide proof of automobile insurance as required by Colorado law.
Provide a completed membership application.
Successfully pass an "arduous duty" medical examination.
Successfully pass a drug screening.
HOW TO JOIN
Meet the membership requirements listed.
Call the station to have someone contact you regarding your interest in the department.
Meet with an officer for an introductory Q&A with you and your family to more fully explain the process and rewards of joining ICFPD.
Complete the application process.
Come in for a personal interview with the Membership Committee.
LIFE AS A ROOKIE
Once you are offered a position with ICFPD, you are a Rookie firefighter. You will be issued your bunker gear (fire protective pants, coat, and helmet), a voice pager that is used to alert you of emergency calls, and the rookie class training schedule. You will be assigned a mentor and a station officer to help you with questions and concerns. For safety reasons, the Training Chief will advise you when you are permitted to respond to emergency calls as your skills base and knowledge increase.
Rookie training typically takes 9 to 12 months and includes the following activities:
A 6-month rookie class that is usually one night per week and some Saturdays. This class includes structural firefighting, basic wildland, and hazardous materials training.
A 40-hour medical First Responder class that teaches you first aid, CPR, and AED. This class is usually one night per week for 3-4 months.
Certification as driver/ operator on three departmental apparatus.

REQUIREMENTS AS A MEMBER
Ongoing minimum tasks to remain as a firefighter in good standing (and to earn years of service toward a 20-year retirement pension) include:
Attend 10 business meetings per year.
Complete 36 training hours per year.
Respond to 15 % of the annual calls.
Maintain skill certifications.
Complete annual medical proficiencies.
Of course, members are strongly encouraged to maintain levels well above the minimums listed above.

THANK YOU FOR YOUR INTEREST
Being a safe and effective volunteer firefighter takes a significant commitment of your time and effort. It is also an impact to your family, and you should discuss it with them prior to applying in order to ensure a healthy work/life balance. Serving the community to help keep people and property safe is a hugely rewarding opportunity to give back to our neighbors.
Thank you very much for your interest in joining ICFPD! It is through the volunteering spirit that we succeed as a department. If you have additional questions, simply leave a message at our station (303-697-4413) to have someone from our department contact you.